Quarantine recipes: glazed lemon cookies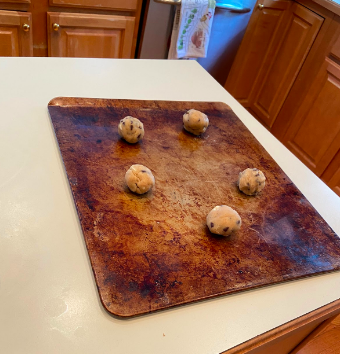 Are you bored in quarantine? Have you been looking for a sign to dust off that whisk and get back in the kitchen? Well, this is that sign! We are giving you exclusive Panther Access to some fun, easy recipes for bakers of all experience levels. That's right, ALL experience levels! So, let's dive right in!
Ingredients:
1 box of lemon cake mix (any brand works, sorry we can't be 100% homemade)
⅓ cup of canola oil
2 eggs
1 Tablespoon of lemon juice (freshly squeezed of course)
1 cup of powdered sugar
1 Tablespoon or more of lemon juice
Recipe: 
Preheat oven to 350 degrees

Mix the cake mix, canola oil, eggs, and lemon juice together in a medium-sized bowl

The dough should be thick, and sticky!

Spray your cooking pan with non-stick cooking spray

Place scoops of about a spoonful of the dough onto the pan, place them around two inches apart because the dough will spread while it cooks

Bake for 12-14 minutes, until the edges turn slightly golden

Let them rest for about 10 minutes

While the cookies are cooling, mix the sugar and lemon juice in a small bowl

 The icing should be able to run smoothly off the spoon without being too thick or too liquidy. Add a drop of water if it needs to flow more, or more powdered sugar if it gets too runny

Once the cookies have cooled, pick them up off the pan and put them on a cooling rack, then put the rack on top of the pan

Use the spoon to drizzle the icing over the cookies until they are covered. If you're feeling zesty, you can add some fresh lemon zest on top of the cookies and enjoy!