A Tribute to Ms. Suzanne Bailey, College Athlete and Beloved Potomac Teacher
Part I: The College Years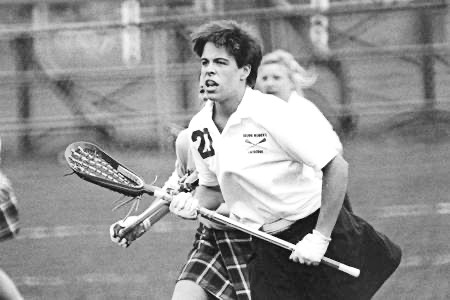 In the Potomac School community, Ms. Bailey is best known as a trusted advisor and a dedicated English teacher. Some also know about her energetic Pilates classes. In this two-part series we talk with Ms. Bailey about her college career as an elite athlete and her journey at Potomac.
During her time at Brown University, Ms. Bailey became the first women's soccer player to earn four straight First Team All-Ivy selections. In 1991, having scored 141 goals as a lacrosse player for the Brown team, she received First Team All-American honors. Her outstanding athletic performances earned her the prestigious Marjorie Brown Smith award in 1991, as "the outstanding female varsity athlete of the year."
To this day, Ms. Bailey holds Brown's record for the highest number of lacrosse goals in a season, and is an inductee of the Brown Athletic Hall of Fame, as well as the Potomac Chapter of Lacrosse, the New England Soccer, the Holton-Arms, and the Providence Country Day Hall of Fames. Each year at Holton-Arms, the Suzanne Bailey Athletic Award is presented to a junior or senior who has excelled in the athletics program.
Editor's note: The following interview has been lightly edited for clarity and length. Part Two, about Ms. Bailey's time at Potomac, will appear next week.
When did you start playing lacrosse/soccer?
I started playing soccer when I was five years old and I didn't start playing lacrosse until my senior year of high school. I played softball, however I always really wanted to try lacrosse, so one day, I went out and I had a great time. Later, I was recruited to play soccer in college.
At college, after my first soccer season, I loved being a part of the team so much that I thought about trying out for the lacrosse team. We had new coaches that year so they were open to considering walk-ons. I was the least skilled player on the lacrosse team, but I was a decent athlete and I worked really hard. I was like a sponge that wanted to soak up everything my lacrosse coaches could teach me.
What made you decide to go into teaching and teach at Potomac?
I graduated in 1991. Right out of college, I was training to play with the U.S. lacrosse team. I had just made the team so I knew I wanted to stay involved, train, and be close to the university. I wanted to find a job that would let me do that, so I was hired as a coach. Before the school year started, the school I worked for lost an English teacher so they asked if I could teach English. I had no idea how, but I said I would love to try.
I was very lucky to stumble into my profession. I realized immediately that teaching was what I wanted to be doing. I shelved the idea of going to law school, which was my plan, and I fell in love with teaching. I found Potomac when I moved back to this area from New England. It was the students I met the day I visited Potomac that made me realize this is where I want to be.
What are some of the setbacks you have faced as a female athlete?
Being a part of the post Title IX generation, I feel fortunate that the teams I played for in college were very well funded and were pretty successful. Thus, I never felt that being a female athlete held me back in any way. But when I look back, I realize that this was not the same situation for all women in sports. I wish I knew more about how I could advocate for other women whose teams weren't as well funded, like the gymnastic team. For me, some of my biggest setbacks were my injuries and self doubts. But I feel very lucky that all of the teams I played for were well funded and supported.
How did you manage your schedule at Brown as a D1 lacrosse and soccer player?
Discipline, for sure. Discipline, determination, and a healthy dose of nerdiness. I was in the library on Friday nights if I needed to be. I planned ahead, I worked as hard as I could, I set deadlines for myself just so I was always looking ahead.
What plays in either soccer or lacrosse stick out the most?
It all comes down to team moments. Either achieving something really exciting, like coming from behind and winning an Ivy League championship. In soccer at Brown, my team was lucky to win all four years. I remember feeling responsibility as a freshman to not let the upperclassmen down, because they had this great dynasty. Also, on the flip side of that, there were also some really devastating losses, but I remember just being able to go through it together as a team. More than anything, we were going through these hardships together.
What's the biggest challenge you've had to overcome? Throughout college did you ever want to stop playing?
I think that in college, from time to time I would run the risk of worrying whether I was letting people down and feeling like I had to come through. I put a lot of pressure on myself. I wish now, looking back, that I could have let go and just soaked up the joy in the opportunity and the gift of being able to play at that level, and not worry about reaching certain expectations.
I think probably the biggest challenge in lacrosse was hitting a wall in which I wasn't able to progress any farther than I was. A challenge was coming up against the idea, which we all face at some point, where there are going to be people that have better skills and are better suited to play. So assuming a role that was more of a supporting role on the U.S. team after being more of a starter in college was another challenge.
What are some of the accomplishments you are most proud of?
When I look back, I am most proud of the friendships and relationships my team was able to forge together. I am proud of my teammates who showed up to practice everyday, who were just as invested as I was, physically, mentally, and emotionally, but didn't always play. Yet they never stopped showing up and doing everything they could. I think that it's easier to have a positive attitude when things are going well for you, but I am now in awe of my teammates who did everything I did without the guarantee or expectation of playing. I am also proud that my teammates trusted me to be their captain, and I am proud of the success my team had in winning four Ivy-League championships.
What's an important lifelong lesson you've learned as an athlete?
Sometimes you can try as hard as humanly possible and work incredibly hard, but still not have things go your way (in sports = a win, playing time, etc.). Just because you've done everything right doesn't mean you necessarily get what you want.
This can feel frustrating or unfair, but it just happens that way sometimes. This insight through sports is a hugely important life lesson that I've carried with me. It helps me stay centered when I'm disappointed and also find intrinsic satisfaction in knowing I gave everything I had and will keep showing up in that way regardless of the outcome.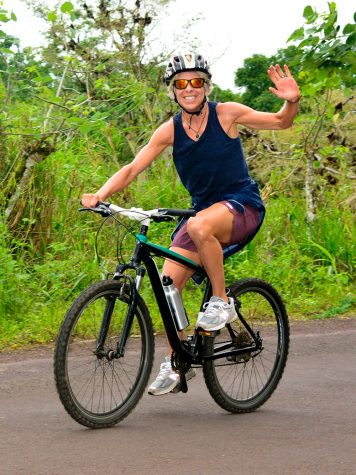 We were impressed by Ms. Bailey's words that sometimes, even if we put in our best effort, we will not always get the outcome we want. Thus, she urges us to find satisfaction in trying our best and persisting through difficulties, no matter the result.
Ms. Bailey's message serves as a reminder to us all that sports, in addition to life in general, is not all about awards and accolations, but rather the relationships that are formed from working and overcoming hardships together. Her lasting legacy and example of perseverance and teamwork is an inspiration to both students and faculty.
Ms. Bailey gave a shout out to other Potomac coaches who have received recognition for their phenomenal lacrosse careers, Coach Burge, Coach Vaughn, and Coach Jaeger.