Students Enthused by the Return of the Breakfast Bar
Students who sleepwalked into school on Wednesday, with their stomachs grumbling because they sacrificed breakfast in order to make it to school on time, were greeted by a welcome sight: Potomac's Breakfast Bar is back.
The thought of not being able to eat anything besides chips and sodas from the vending machine, until 12:35 pm can make the idea of working and focusing in the next three 80 minute blocks seem impossible. According to Kate Choi, SGA Treasurer and Current News Editor,"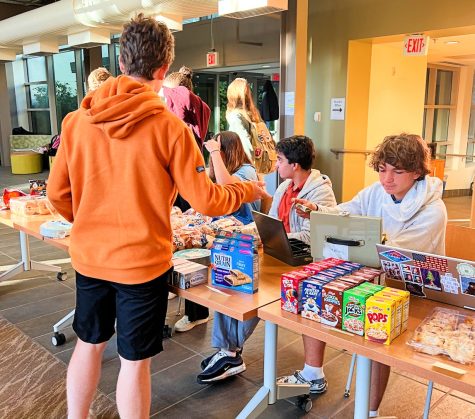 The Breakfast Bar proves to be the perfect remedy for student hunger on those treacherous Day 1 schedules. The Breakfast Bar serves up Pop-Tarts, bagels, cereal, muffins, orange juice, donuts, and more. The prices range from 25 cents to a dollar, which is very affordable. Senior and Current Managing Editor Michelle Ahn said she was "very happy with my purchase of two strawberry Pop-Tarts," and when asked if this food item would fuel her until lunch, she responded with an enthusiastic yes.
The Breakfast Bar was created last year by SGA but didn't run on a regular basis nor serve the extensive amount of food it does currently. According to Senior Class President Ben Schirmeir, the SGA hopes to run the Breakfast Bar every two weeks He also stated that students can give feedback on what they liked and disliked about the Breakfast Bar in forms located in the Upper School Library, allowing SGA to adjust the food accordingly. Proceeds are funneled directly into purchases for the next Breakfast Bar.
The future of the SGA Breakfast appears bright and the student population hopes to see it functioning throughout the year.