Some Students Receive Behavioral Notices for Not Following Potomac's Mask Policy
In an email sent on Sunday, January 9th, Upper School by Director of Student Life Mr. Westermann reinforced the message of his speech during the preceding Thursday's Upper School meeting, stressing the importance of wearing masks correctly. He advised students by email that "the faculty now have the option of submitting behavioral notifications specifically for mask violations." When a student receives their first notice, their parents will be contacted and asked to remind the student to properly wear their mask. If a second notice is sent, Mr. Westermann said in his email that the student "will be sent home for the balance of the day."
Mr. Carl Long in the Math department has been particularly zealous in enforcing Covid rules. Last year, Mr. Long was notorious for carrying around a meter stick to ensure students were six feet apart. He insists that all students wear their mask properly to ensure the safety of everyone.
"If I see a nostril, I write a notice," Mr. Long said. "Because Omicron is so spreadable, you've had the warnings. Every person in this building needs to help keep everyone safe. If you're not wearing your mask correctly, then you're not doing that."
Mr. Long continued by saying that even though students have been compliant with mask rules, they are letting them slide again. He suggests that "if your mask slides, maybe you need a different mask."
Sophomore Auden Easter, one of Mr. Long's students, received a behavioral notice for not properly wearing her mask. Although Auden agreed that she deserved the behavioral notice, she commented that she would always put her mask back on her nose after it slipped down.
"I was wearing one of the regular Potomac masks that has the elastic straps in the back, so it wasn't very tight on my face," Auden said. "As I was talking it would fall down, and I would put it back up, but after a while he gave me a behavioral notice."
When asked if she thought students receiving notices for not wearing a mask was fair, Auden responded that it is for some students if they constantly have their mask down because Potomac is "trying to keep the rest of the community safe, so I get why they're giving it. But for some people I think it's a little over reactive if their nose is out for a few seconds."
About the Writer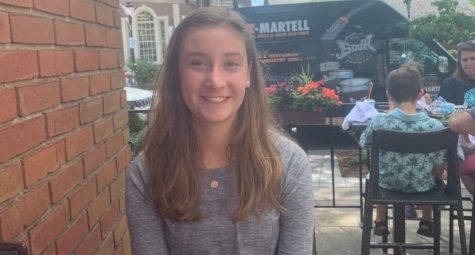 Charlotte Castle, Co-Editor-in-Chief
Charlotte Castle is a senior and Co-Editor-in-Chief. She joined the Current her freshman year, and if she's not editing or writing articles, you can...