Ranking the Traditional Potomac Assemblies
The Opening School Assembly is my Fave
Since kindergarten, I have attended many assemblies, social events, and unique Potomac traditions. Below I have ranked my current favorite Potomac traditions from my least to most favorite.
5. Fall Frolics. This tradition was the highlight of my fall season when I was in Middle and Intermediate school, but I no longer want to attend it in high school. Despite the teacups and wishing well being fun when I was younger, it now feels old and unenjoyable. The inflatable rides being set up on the softball field distract me in math class, and none of the rides are targeted towards high school students.
4. Thanksgiving Assembly. The kindergartners make me laugh every time, looking at each other with confusion as seniors show them how to make a turkey with their hands as they sway from side to side. I enjoy the students speaking about what gratitude means to them. But, I think the assembly can at times be boring, and is not interactive enough to keep me entertained for the whole hour.
3. Coffee House. I love how Coffee House gives my classmates and other students the opportunity to showcase their talents, from singing to comedy. However, I wish it was not on a Friday as I and many other students have sports and other commitments that afternoon.
2. May Day. My class was the first to experience the new May Day tradition of featuring another country's culture. Even though I enjoyed learning about Bulgaria, I wish more of the original May Day dances and songs were maintained.
1. Opening School Assembly. This is my favorite because I love watching the Lifers walk the kindergartners down the quad steps. Mr. Kowalik and other faculty's speeches make me laugh more and more each year, and provide the motivation needed to transition from summer to the school year. The assembly is always full of excitement as each class reunites, seeing friends they may not have seen since last year.
About the Contributor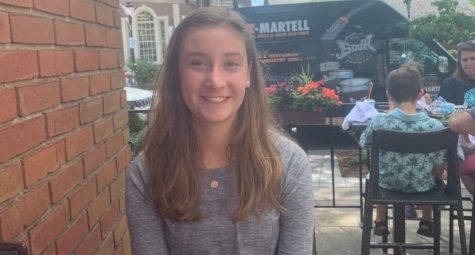 Charlotte Castle, Co-Editor-in-Chief
Charlotte Castle is a senior and Co-Editor-in-Chief. She joined the Current her freshman year, and if she's not editing or writing articles, you can...