Latino Studies Elective Allows Students to Explore Latino/a/x Culture
New elective shows Potomac's increasing commitment to multiculturalism in the curriculum
The Latino Studies elective, offered to both juniors and seniors, has made its debut in Potomac's curriculum. With 21 students, one of the largest class sizes at Potomac, the class examines the study of the LatinX perspective.
The teacher, Head of the Upper School Mr. Doug McLane, offers an engaging environment to explore "latinidad," a broad understanding of LatinX culture and the experience of Latin-Americans in America. From podcasts to various Latin publications like "La Opinión" or "El Nuevo Herald," to guest speakers and field trips, students in the class have been able to actively engage themselves in learning about LatinX culture. Senior Margaret Taylor said, "I really have enjoyed taking the elective this semester! It has illuminated the interconnectedness of identities, backgrounds, and customs. I especially enjoyed discussing a wide variety of sources, from newspaper articles and documentaries, to music and poetry, as it gave us a more 3-D perspective on each unit than is typically found in a single text."
Maya Davis, the only junior in the class, added, "This elective was definitely unique from my other classes. Learning about social issues and experiences pertaining to certain identities are just as important as learning math or physics, and this class gave me important insights which helped me understand common experiences and feelings people in the Latin American community share."
Students have also had the opportunity to learn about various Latin-american identities from studying art, literature, and personal testimony. Guest speakers like Synthia Fuentes, Payroll and Finance Associate at Potomac, and José Gonzalez, Facilities Technician, joined the class to share their experiences as Latin Americans both inside and outside of Potomac.
Senior Rajan Bhargava commented, "This class is different from the others because it focuses on the experience of latinos in the United States. We read stories and heard podcasts about what it's like to be a Spanish-speaking immigrant, and even got to hear from Potomac faculty and family members. The experiences in this class have made it a very positive experience, and I am so thankful that I chose to take it this semester."
The use of Spanish and English in this elective also enhances the class as students are able to understand the complexities of language and the similar language struggles of bilingualism for Latin americans.One of the biggest takeaways from the class spoke about the metaphor of latinidad as a "sombrilla," or umbrella. Latinidad is not a certain ethnic group or set of characteristics, but rather the beauty of a variety of unique, complex identities. Students in the Latino elective were able to understand that the Mexican-American experience is entirely different from that of a Puerto Rican or a Colombian and beyond.
Unlike other language classes, Latino Studies specifically studies the experience of LatinX experiences in America. Typically reserved for the affinity and alliance groups found at Potomac, the emergence of this elective highlights an increased effort to incorporate multicultural perspectives in the curriculum. Diana Page, Spanish teacher and K-12 Chair of the World Languages Departments said, "It's a really great elective, and it's something I'm happy we were able to offer."
About the Contributor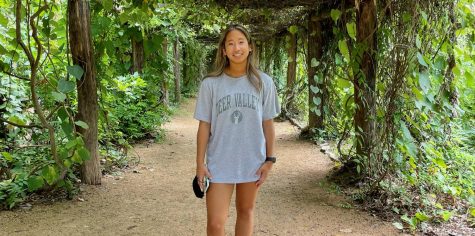 Audrey Lee, Executive Editor
Audrey Lee is an executive editor who enjoys writing for News and Opinion. She joined the Current her freshman year and enjoys competing on Potomac's Varsity...