Potomac Stresses Masks as it Adapts to The Omicron Variant
In an Exclusive Email Interview with The Current, Assistant Head of School Mr. Tim Jaeger Outlines the Steps Potomac is Taking to Keep Students Safe
As in-person school resumed after the winter break, Assistant Head of School Mr. Tim Jaeger graciously responded by email to my questions about Potomac's response to the rapidly spreading Omicron variant of Covid-19.
The Current: Can you go more in depth of what the process will be if a student does not wear their mask properly?
Mr. Jaeger: This will probably be handled a little differently in each division, and the process will be developed by each division head. I think the division heads are assuming good will and are asking faculty to give plenty of reminders to students. A student who is repeatedly failing to keep a mask over the mouth and nose is putting a lot of other people at risk, so I imagine that there would be consequences for that behavior if it is repeated often.
The Current: What was your role in developing the new mask rules?
Mr. Jaeger: I am part of a Covid Response Team that stays current with guidance from the CDC, AAP, and Fairfax County Health Department. This team also consults with several medical experts (doctors) regularly about protocols. Our team works with Potomac's senior administration to develop policies and practices. At the moment, we are optimistic that the current surge in cases at Potomac and in the DMV region will subside in a few weeks, so we are taking a few extra measures (like the mask guidance) for now and will then reevaluate at the end of January.
The Current: What are the specific mask rules, and what inspired them?
Mr. Jaeger: The new mask rules and expectations are much different than the old ones. For the next few weeks, until the current surge in cases subsides, we are asking students to wear masks during athletic practices and competitions, and we are asking students to either double mask or wear a surgical mask as extra prevention because the variants seem to be more contagious than the original virus.
The Current: How do you hope the new mask rules will increase student and faculty safety, and are there other measures that could be implemented in addition to these rules in the future?
Mr. Jaeger: I think that a few extra measures over the next few weeks could make a difference. Masking, testing, distancing, and vaccinations are all tools that can help us mitigate spread and hopefully allow us to keep as many students and faculty as possible healthy and on campus. For the month of January, we are only engaging with other schools (athletics and co-curricular programs) that are using similar mitigation protocols as Potomac. We are also limiting the size of assemblies and de-densifying the lunch plans in each division.
The Current: How do you hope students will perceive the new rules? Do you predict a lot of students will follow them, or not?
Mr. Jaeger: Well, I think that all members of our community are really sick and tired of this pandemic and patience is understandably running thin. This is true for everybody; students, faculty / staff, parents, and administrators. However, we still have to be smart and disciplined in our behavior so that we can make the best of this situation. We hear many different opinions on the topic of Covid, and we know that some people have the perspective that we are all just going to get sick and it won't be too bad so all these mitigation efforts are useless. Conversely, we have a lot of members of our community that remain very worried about health issues, are medically at risk, or have experienced loss of loved-ones in the pandemic. We are all part of a big community (1300+ people) and will need to make sacrifices to get through this. I believe that the Potomac students understand and respect that, and I believe that much better days are ahead for all of us if we can navigate these next few weeks.
About the Contributor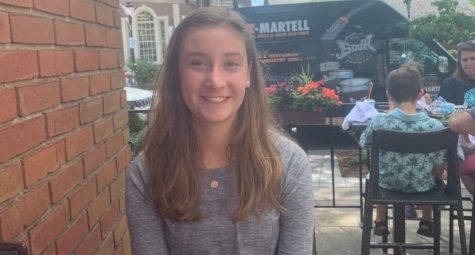 Charlotte Castle, Co-Editor-in-Chief
Charlotte Castle is a senior and Co-Editor-in-Chief. She joined the Current her freshman year, and if she's not editing or writing articles, you can...