At the HSA Assembly, Students Share their Perspectives on Being Hispanic at Potomac
On Tuesday, November 30, the Hispanic Student Alliance led an assembly that featured students who identify as Hispanic talking about their experiences of being Hispanic in America and at Potomac. The assembly was led by juniors Andrea Villafuerte and Charlotte Krilla.
Andrea led off by describing her family in Ecuador. She said that at times she felt "too American" to belong in Ecuador, but "too Ecuadorian" to belong in America.
Next, Charlotte explained that being Hispanic doesn't come with a universal meaning, but can differ for each person who identifies as Hispanic. During her presentation, Charlotte showed pictures of her favorite Hispanic foods on the screen in EPAC.
After Charlotte, Natalia Vilela '24, showed video clips of her with her sister performing traditional Peruvian dances in authentic costumes. Natalia explained how each dance comes from a different part of Peru.
Isabella (Isa) Chumpitaz '24 compared her experience of being Hispanic at Potomac with that at her previous Spanish immersion school. Throughout her journey at Potomac, she's found many great friends, but being Hispanic has always made her feel like she didn't entirely belong.
Finally, Ben Levy '25, talked about his experiences being Paraguayan in America. He shared numerous statistics about the Paraguayan American population, including the fact that there are fewer than 25,000 Paraguayan Americans in the country.
Finally, Charlotte and Andrea, accompanied by Tea Picconatto '23 on guitar, sang a Latin American pop song, La Gozadera. As soon as they began, the whole upper school quieted down, and they finished their song to tremendous applause.
About the Writer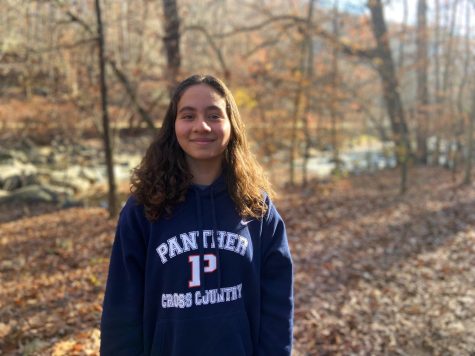 Jessica Raman, Managing Editor
Jessica Raman is the managing editor of the print edition for the Current. In her free time, she enjoys cooking, baking and getting lost in good books....