"Red Taylor's Version" Polarizes Potomac's Students
This November, Taylor Swift's newly released "Red Taylor's Version" sparked controversy around the Upper School. With a student population of dedicated "Swifties" and avid Taylor haters, sides quickly became polarized.
To many students, the album was a hit: The "Swiftie" at Potomac are ecstatic about the beautiful renditions of the songs from their childhoods, and the excitement of the previously-unreleased music of the album. "It is the best album in the entire world!" exclaimed Senior Caroline Witeck. A rather unexpected fan, Senior Luke O'Reilly, mused that "her scarf and its innocence is something you want to whiff every day" after claiming that "All Too Well slaps." Luke is not alone, and if you listen carefully you can often hear a group of students sobbing to "All Too Well (Ten Minute) (Taylor's Version)." Red Taylor's Version has refreshed many members of the community with excitement and appreciation, and for some, an insatiable need to sniff red scarves.
In stark contrast, Senior Weston Hicks is famously known for his passionate hatred for Taylor. He bears no opinion on the album but rather offers commentary on the artist herself. "She is bad. She is only relevant when she complains about something," he says. While reducing Taylor's entire discography to the adjective "bad," Weston's stance also alludes to the controversial reputation of Taylor that extends beyond music. "She goes through men like a box of Cheez-itz," he continued. His opinions are shared by many students in the community who feel that Taylor's music is too focused on boy drama than actual subject matter.
From the Pro-Swift side, Junior Elizabeth Rossoti states "I love Taylor Swift and if you don't there is something wrong with you and you are probably sexist." Her claim directly attacks the opinions of the Anti-Swift side and highlights how many of their arguments could be unconsciously rooted in misogyny. Hicks maintains that he is not sexist and that his dislike for Taylor is simply an opinion on her. However, this issue continues in a much larger sense throughout the student body.
Hectic debates between Taylor lovers and haters ring throughout the halls and cause massive tension within the student body. As each side of the argument continues to further antagonize and ridicule each other, the Potomac School administration has stated that bringing in a SWAT team may be necessary.
About the Writer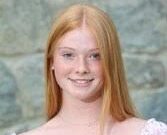 Madelyn Bonadio, Opinion Editor
Mady Bonadio is a senior opinion editor who joined the Current her freshman year. She enjoys writing and learning more about the current events of Potomac...