At Winter Sports Media Day, Athletes in Every Sport Share their Excitement
Potomac is fielding teams that can compete for the championship in every winter sport
At Potomac sports media day on November 20, winter student athletes gathered to enjoy a morning of bagels, notes of gratitude, and flashy photoshoots to promote team spirit and get fired up for the slate of upcoming winter competition. Potomac's basketball teams finally return to the court and the squeak of basketball shoes fill the large space after a year of silence. Winter athletes including squashers, wrestlers, and swimmers also shared this excitement, reconnecting with their teammates and setting lofty goals for the season.
As senior approached their final season, captains from each sport agreed that Potomac's winter teams were shooting for championship titles and the hard-work to back them.
Kayla Rolph, captain of the Girls' Varsity Basketball team said, "Our team is so devoted this year. I'm looking forward to the ISL tournament and the State tournament, and I think we have the team to go far." After winning the Tip-Off tournament on December 4 and currently holding a 3-0 record, Girls' Basketball has definitely set the tone for a winning season.
Boys Basketball also had great success at the highly anticipated Tip-Off tournament, making it to the finals on December 4. After returning to center court over a year later, BJ McNeil, one of the senior captains of the Varsity Basketball team commented,
"It's felt like forever. I'm really excited. I'm probably more excited [than the underclassmen]. It's my last year, I just want to have fun, win some games, and win the MAC championship."
Austin Smith, another senior captain of the Boys' Varsity Basketball team, added on how team camaraderie has already translated to success on the court. "We have a really good dynamic. We're all really good friends off the court, and there are a lot of guys we can count on. That really helps."
Junior Charlie Ortmans also shares his optimism for the strong team spirit seen for the indoor track team. "I'm excited for our roster. We have some great girls relay squads that will really shake things up." Charlie is also excited for the increased time in the weight room for lifts and cross training, thankful for the Spangler facilities.
Seniors Hannah Bell, Rajan Bharghava, and Annabel Lee also share an overall excitement for swim meets, and more importantly, championships at the end of the season.
"One of the best parts of the season is the overnight trips for championships. It's super fun, and a time where you really get to see the team bond," said Rajan. In addition to enthusiasm for more meets, the new underclassmen and new swim coach are helping to shape the new swim season in a new and exciting way.
Potomac Swim and Dive is not only the only winter sport with new coaching staff. Charlotte Krilla, senior on the Girls' Varsity Squash team, expressed her excitement for the major potential for girls squash under a new coach.
"We're excited to go to Nationals this year. Our new coach this year is super experienced and supportive, and this is only going to help us more as we progress into the season," said Charlotte.
Lastly, seniors Anwar Karim and Jack Peters are most excited about their new underclassmen. With only three seniors returning to the team, the new underclassmen are bringing a new youth to the team.
"We're a very young team, but that's a good thing, because you can tell the guys really want to get after it. Even though wrestling is an individual sport, everybody wants to see everybody win for the team at the end of the day," said Anwar.
Jack Peters also commented on how the size of the wrestling team is drawing large benefits. "It's definitely the biggest team we've had since freshman year. In the past, we didn't have people for a certain weight class, so it was an automatic loss. But now we have people in mostly every weight class," said Jack.
About the Contributor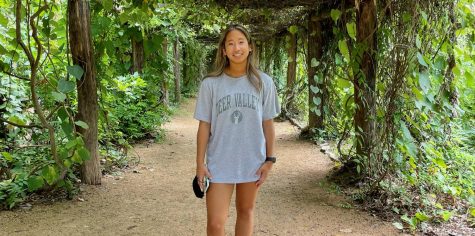 Audrey Lee, Executive Editor
Audrey Lee is an executive editor who enjoys writing for News and Opinion. She joined the Current her freshman year and enjoys competing on Potomac's Varsity...