Lifers offer their thoughts as they wrap up 13 years at Potomac
As we wrap up this abnormal school year and bid farewell to the Class of 2021, it is important that we not only honor the entire senior class, but specifically our senior Lifers. These students, who experienced everything Potomac has to offer since kindergarten, are coming to a bittersweet moment in their lives in which they say goodbye, as students, to their home away from home. Several Lifers of the Class of 2021 reflected on their favorite traditions, memories, and friendships, as well as offered advice to their kindergarten selves after their 13 years at Potomac.
Many Lifers were enthusiastic about sharing their favorite Potomac memories. Marissa Kadri commented, "My favorite tradition would have to be Earth Day with Mr. Hoffman and Mr. Pingree. From nature walks in Pimmit Run to the epic farmers market, Earth Day at Potomac isn't one to miss!" 
Other students commented on perhaps the best known (and cutest) Lifer-kindergartener favorite, the Turkey Tango, performed at the Thanksgiving assembly. Julia Jackson said, "My favorite tradition at Potomac has always been the Turkey Tango. Not only do I remember doing the tango and who I was next to when I was a kindergartner, but watching the dance every year just before Thanksgiving break with the whole school crammed into Chester always feels like the perfect example of the Potomac community." 
Lifers who participated in athletics recounted their favorite team memories. Chris Coppola said, "I especially appreciate the memories of playing soccer with the Potomac Boys' Varsity Team under our awesome coach, Coach Marcelo Valencia. The highlight for me was when Patrick Morris scored the game winning penalty kick, thereby defeating our big rival Sidwell Friends to win the MAC Championship Tournament our junior year." 
Student Body President Will Feary said, "My favorite Potomac memory was my freshman year cross country cabin trip during preseason. It was my first taste of the high school community and how much fun I was about to have."
In addition, several Lifers agreed that their relationships with teachers and classmates is what made their Potomac experience remarkable. Kay Rollins said, "At the end of the day, the school is just a building. But the thing that makes this place special to me is the people who I've met here, particularly the teachers. I will miss the days spent in debate office with the coaches, the moments when you see old IS teachers around campus (shoutout to Ms. Matey), and running into other people who have made Potomac special."
In reflecting on traditions and memories, student Lifers also gave advice to their kindergarten selves based on their Lifer experience.
Claudia Cutler said, "I'd tell my kindergarten self to get out of her little shell. No reason to be shy in such a warm community. Potomac is my upbringing no matter what. I'm going to miss the people I've grown up with my whole life." 
Patrick Hullman said, "SHEEEEESH. Snack time Gold Fish was really where it was at in lower school. Kindergarteners: hoard those snacks somewhere and give them to your pals during recess."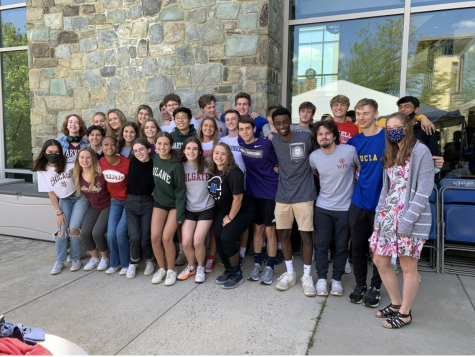 All respondents explained the meaningfulness of being a Potomac Lifer and how it has shaped their lives for the better. Natalie Moosher said, "Potomac holds a certain familiarity that I can't compare to many other things in my life. It's been a constant for me for the past 13 years and has been a huge part of my childhood and growing up experience." 
Ed. Note: Ella Adamec, who wrote this feature, is a proud lifer herself.